As the EIA data shows, oil rig productivity in the Eagle Ford is only 34% higher when compared to 2015, while natural gas rig productivity is almost double. Something is happening here, and while we cannot be certain, we can speculate. One answer may be the fact that there are more natural gas focused rigs in service compared to a year or two years ago. The EIA calculates its productivity data by aggregating total oil and natural gas production and comparing this to the total number of rigs in active service, irrespective of whether that rig has been deployed to drill for primarily oil or natural gas.
So, is this what is happening in the Eagle Ford? As the second chart in this article indicates, the total rig count in the Eagle Ford has more than doubled over the past 12 months, so perhaps a greater proportion of the rigs in service have been deployed to drill for natural gas. However, if we look at the oil and gas rig count for the Eagle Ford (Baker Hughes data), we can see in fact that the proportion has not changed appreciably over the past two years. In fact, the total number of rigs (absolute terms) in active service dedicated to drilling for natural gas remains near a record low (5 vs. 3), according to recent data for the week ending October 20.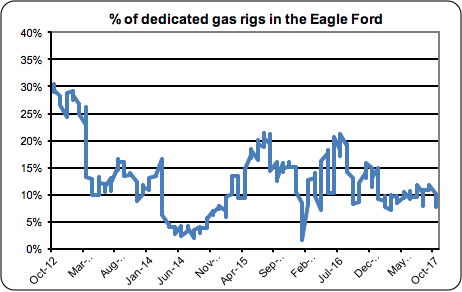 Therefore, the only thing we can deduce from all of this is that at an aggregated level, the Eagle Ford is now producing more natural gas (and/or Natural Gas Liquids (NGLs)) relative to oil.
https://seekingalpha.com/article/4115464-something-happening-eagle-...